Casa Baloyán is today the fruit of a dream, a passion and the expertise of winemaking. We, at Casa Baloyán, are proud to be a family-owned and operated company.
The founder and President of Casa Baloyán, Erik Baloyán, is a dedicated man of vision and with arduous and consistent work, he has created wines which speak for themselves.
Mr Baloyán arrived to the Valle de Guadalupe in the year 2003 during his dedicated quest for the ideal and noblest lands in order to grow the finest grapes and produce quality wine.
Today, Casa Baloyán features the capability to produce between 8,000 and 10,000 wine cases a year amongst which we find the following: Cabernet Sauvignon Reserva, Cabernet Sauvignon Selección Especial Don Sirak, Malbec, Vino Tres Tintos, Pinot Noir Duque de Lara, Merlot, Chardonnay and Muscat.
The Casa Baloyán Estate is located in Valle de Guadalupe and encompasses seven vineyard sites in which, aside from the six different Cabernet Sauvignon varieties we are currently working with, we also grow Malbec, Merlot, Syrah, Petit Verdot, Pinot Noir, Cabernet Franc, Chardonnay and Muscat.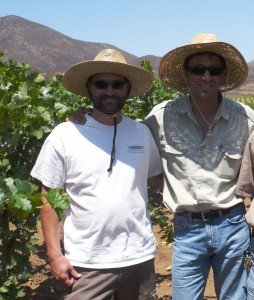 It was in the year 2003 in fact that the founder selected the most suitable site to grow and develop his high quality grapes; he immediately noticed that the best wines currently being produced in Mexico had an origin that was well known to him: the splendid and highly appealing Valle de Guadalupe.
In the beginning, Erik Baloyán's interest was in Bordeaux-style wines, however, subsequently he decided to explore the potential of wines such as Chardonnay and Pinot Noir. Furthermore, in view of the complexity the latter varieties entail in terms of vinification, Mr. Baloyán went out yet on another quest, but this time searching for soils that featured temperatures cold enough so as to accommodate the development of the company's products.
It was not until 2006 that Chris Corley, our enologist, joined the founder in his project. Chris Corley is renowned and highly respected in his field and has brought in his expertise as well as his delicate touch to the supervision of the grape harvest and the milling facility owned by Casa Baloyán.
Our working philosophy prides itself, each time we engage in the task of vinification, in seeking to produce wines of unquestionable quality. Undoubtedly, as our founder has witnessed, our wines are the fruit of great and noble vineyards. Our work today will bear the fruit tomorrow.