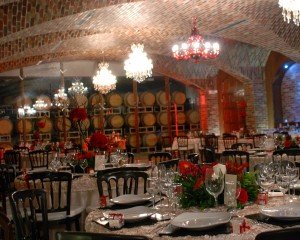 The Casa Baloyán winemaking facility is situated in the heart of Tijuana in Baja California, Mexico. We are an urban winery, a first of its kind in the Republic.
Our winery is a unique concept that we chose to bring to Tijuana. Our hope and intent is to make our wines accessible to the consumer both in Baja and in California and to offer an outstanding and serene experience in the midst of the hustle and bustle of the city.
After hand-harvesting every cluster of grapes, much care is taken in transporting them from the Rancho Baloyán Vineyards to the Winery. Upon reaching their destination, the grapes embark on their lengthy journey, one with many steps from sorting, crushing, de-stemming, fermentation to pressing, aging and bottling.
At Casa Baloyán, our focus is on creating QUALITY.
Besides our winemaking facility at the site, we cater for your corporate and private events, ranging from weddings to receptions, to breakfasts, to showers, the list is infinite. We have several rooms and areas at your disposal for you to design and embellish as your heart desires.
We also have on the premises a Wine Bar where you can enjoy a lovely glass of one of our finest wines paired with a sumptuous dish to satisfy your tastebuds. Kindly make a reservation. See Wine Bar>>
Where to find us: Plaza Domino, Blvd Salinas 11120-11, Fracc. Aviación, Tijuana, B.C.N. 22014 (See us on Google maps)
We look forward to your visit. Contact Us>>